My search to paint Heaven in earth...
« Hot at Hearst Castle | Main | Secluded Path »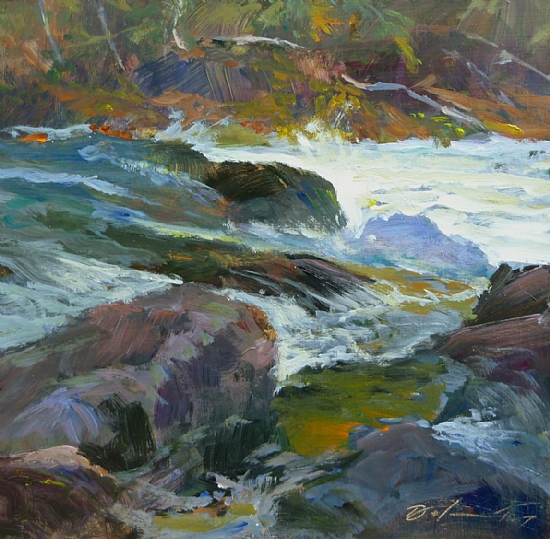 Oak Creek Tributary, 10x10, acrylic on board, plein air at Sedona Invitational 2010
Just returned from two plein air invitationals, both in October: Laguna and Sedona, California and Arizona.

As always, it was challenging, educational, and spirit-reviving.

Challenging? Subject selection, finding the right light, tuning my palette to the week--parking!

Educational? More experience with value, color, temperature. More airport taxes for rental car. More artists to meet and learn from. More learning about pacing, creativity, organization.

Spirit-reviving? Every time I paint, I go deeper into myself. I find the weaknesses that I need to grow into strengths. Again, I encounter God's creation in nature. The sound of the ocean breakers in Laguna, the tumbling waterfalls in Sedona's Oak Creek--it's musical, soothing, and wonderful.


And again, it was the painters who dedicated their all to the events (to their paintings!) that both humbled and inspired me. When you are around the best of company, the best rubs off, is felt in the air, is seen in the paint. Though there were many artists that created amazing works, I felt that my own understanding of my calling was especially deepened by two artists.

I met John Burton at Laguna, among the 50 artists invited from across the US. His work can be viewed on his website at www.burtonartstudio.com. John is professional in every way. His opening presentation of three works were consistent in quality, color, masterful composition, and sensitive in edge treatments and atmosphere. He is a painter's painter. (And he was elected as "Artists' Choice" for the event, a compliment from talented and accomplished peers!).

Carolyn Hesse-Low has participated in both Laguna and Sedona each of the past three years I have been invited. Her work may be viewed on her website at www.carolynhesse-low.com. She is another professional: I would even say that she is "academic" in her approach, in the sense that her drawing is flawless, compositions well-planned, and color combinations subtle and tonal. Carolyn approaches each painting with care (usually seated), and strategizes as well as empathizes with her subject. "Thoughtful" doesn't completely describe her approach as it appears to me, but it is a characteristic of her work that I would like to own in my own painting.

There are so many artists who are painting at the top of their game. It was a privilege this past month to be around some of the best, to learn more about how I can strive to be the best I can be. As it was, I was happy with my work, met collectors, had the honor of several purchases, and gave thanks for the blessing that is my profession.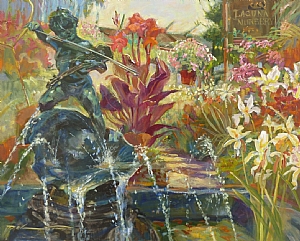 passion play, 24x30, acrylic on linen

Laguna Invitational 2010

collection Mrs. Yvonne Boseker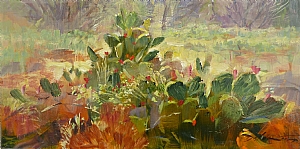 cactus halo, 10x20, acrylic on board

Sedona Invitational 2010

Private collection
---
---
Comments