My search to paint Heaven in earth...
« Secluded Path | Main | The Shape of the World »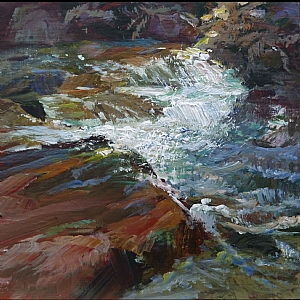 Just got back from the "6 Squared" Exhibition at the Higbee Gallery in Costa Mesa, CA. Imagine being in one gallery and being able to view 500 paintings from fine artists from all over the United States--and all the work is only 6 inches by 6 inches!

I say "only" because we normally think of ANYthing that is 6 inches to be rather dimunitive, and perhaps even not worth noticing. But think of the atom relative to its nuclear power, a mosquito trapped inside a camping tent (your tent!), the pupil of the human eye, the speed of a hummingbird's wing: nature is replete with examples of the Small Yet Powerful.

And that's what you have, as a viewer at the 6 Squared showing: paintings of industrial plants, bridges, flowers, birds, cattle, portraits and figures, landscapes, seascapes and sunsets from all parts of the United States. It's a veritable treasure trove of subject, style and techniques, all represented in the same lean, muscular format of the tiny square. WOW! What an explosion of beauty inside the gallery, like elegant shrapnel from the hands of those who know how to fire a gorgeous guided missle...

Fortunate and honored am I to have four of my little paintings in this excellent show, over which Randy Higbee and his staff sweated bullets to put together. The company of painters is esteemed, with many of the finest plein air and studio painters of today represented in those 500 frames. Those little squares reveal the versatility of that format, focus the possibilities of what can be done into the excellent reality of what has been done, and require that the viewer step in closer to view the artists' loving touches within every inch of the winning works: that dash of orange where the sun goes down, that golden-white gleam of light on the dusky water, that particular alizarin color of the flower petal that reflects the warmth of its neighboring leaf. Some of my favorites: Bonnie Zahn Griffith's pastels; Elaine Hahn's "Wekiva Springs," John Baumlin's "Sunset, Cancun," Sandhya Shetty's "Sunset Glory," Tom Balderas' "Woman and Child with Pink Umbrella," Erin Purcell's watercolors, Ken DeWaard's "After the Party," all of Greg LaRock's works, Jeff Sewell's ephemeral landscapes, and Sally Shisler's abstraction entitled "Clyde's Cattle." Wonderful, all!

"To see a world in a grain of sand, And a heaven in a wildflower, Hold infinity in the palm of your hand, And eternity in an hour..."

Perhaps the artist-poet William Blake would say the same today about the "6 Squared" show. It's worth an hour--or two--to see for yourself the wonder of these works, and experience simultaneously the power of the moment and Eternity in a 6-inch painting.

__________________________________________________________________________________

Randy Higbee Gallery, 102 Kalmus, Costa Mesa, 92626 (800) 506-7624. Exhibition closes May 6, 2011.
---
---
Comments