My search to paint Heaven in earth...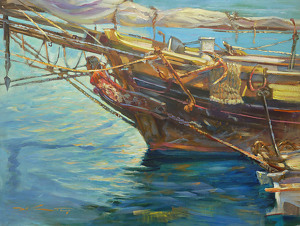 One of the significant elements I look for in selecting a subject is an interesting shape: something about the model's silhouette or the shapes within it that exude variety, uniqueness, and stimulates emotion. I found it in Dana Point Harbor as I was painting for the Laguna Invitational--the bow of "The Spirit of Dana Point" practically leaped at me from across the water. The carved figuredhead and prow formed an interesting ellipse of blue-green water between them that was enough to initiate the day's painting.
I could see those interesting and semi-elliptical shapes repeated in the rat lines, spaces between the furled sails and the boat, in the anchor and metal workings. In every painting I am seeking a 'thread" of some type that will unify the painting, and visually "tie it together."
That thread could be a color, a pattern, a line, or a shape. As I blocked in the painting, and developed it, I paid attention to those ellipses and negative spaces throughout the design, in both the shapes of the ship and the water.
Whenever a painting seems to be spiraling out of control, I try to back up and find the "simple reason" that attracted me to the subject in the first place, and return to the elements and principles that are the foundation of successful design.
---